Back to all posts
Posted on
January 2017 Exam Schedule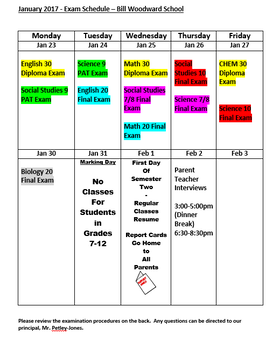 *******EXAM SCHEDULE FOR GRADES 7-12********
Please note, if your child does not have an exam scheduled for that day, there will be no regular scheduled classes for grades 7-12.

If you wish for your child to leave school once they have completed their exam, please make sure that they have submitted a parent/guardian signed permission form to the office. (Permission forms were sent home with students last week).
Good luck, and happy studying to BWS students in grades 7-12!!